LJUBENKO STOJANOVIC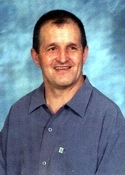 The Stojanovic family came to America September 26, 1996 from Bosnia. They were assisted in their move to the US by the ELCA and St. Andrew church agreed to sponsor them here in Texas. Our church arranged an apartment with furniture, food and other living necessities, along with toys and learning materials for Igor and Sandra, who were 8 and 4 at the time. Ljubenko described the move as "like coming from the sky"; it was so different from where they had come from. Bosnia had been at war for 4 years; there was hunger, no work, explosions all the time and they feared for their safety so they took advantage of an opportunity to leave. They were among a million people who left the country. Ljubenko and Vesna have many fond memories of the many St. Andrew members who helped them navigate and learn about their new home and country, with a new language and culture. They remember the Youth group bringing decorations and gifts the first Christmas, someone giving them a shortwave radio so they could still hear broadcasts from Bosnia, another giving them a computer, another a Bible in their native language, others giving them gift cards and rides or stopping by to visit. Though they have been back twice to visit family, they said they are glad they live in America.
In Bosnia Ljubenko worked for a large company as a manager in a mechanic shop that made parts for trucks. Vesna worked in sales at a store. Here Ljubenko's other job is as an assembler/machinist for Hamilton Form Company, which makes concrete forms for building and bridges. They continue to work under a green card since getting citizenship is expensive. Igor got citizenship for free after he joined the Army.
When not working at Hamilton or St. Andrew, Ljubenko likes to watch TV, especially soccer. In fact his nickname, Seki (pronounced "Shecky") comes from looking and playing like a famous soccer player in the 1960's.
When asked what he likes best about being the sexton at St. Andrew, Ljubenko said it is the trust that the Pastors and the congregation have in him, to give him "the keys to everything". He likes working with and helping all the people.
We want to say "Thank You" for all they do here for all of us.