Latest News


Warning: Creating default object from empty value in /home1/standrew/public_html/modules/mod_latestnews/helper.php on line 109

Warning: Creating default object from empty value in /home1/standrew/public_html/modules/mod_latestnews/helper.php on line 109

Warning: Creating default object from empty value in /home1/standrew/public_html/modules/mod_latestnews/helper.php on line 109

Warning: Creating default object from empty value in /home1/standrew/public_html/modules/mod_latestnews/helper.php on line 109


Popular


Warning: Creating default object from empty value in /home1/standrew/public_html/modules/mod_mostread/helper.php on line 79

Warning: Creating default object from empty value in /home1/standrew/public_html/modules/mod_mostread/helper.php on line 79

Warning: Creating default object from empty value in /home1/standrew/public_html/modules/mod_mostread/helper.php on line 79

Warning: Creating default object from empty value in /home1/standrew/public_html/modules/mod_mostread/helper.php on line 79

Welcome to Our Web Site
Dear Visitor,
Greetings from the St Andrew Lutheran Church family! We're honored that you would take the time to explore your way through our website to learn about us, and we hope you'll find that the content of these pages answers whatever questions you might have about us. We're a growing congregation that still has the feel of a small town, family-centered church…where the people are warm, the smiles are genuine, and what's in your heart matters more than what's in your pocket or on your back.
If you're blessed or challenged by one of the messages available on the site, or if you're curious about something these pages don't cover, we'd love to hear from you…whether you're just a few miles away or on the other side of the world. You can This e-mail address is being protected from spambots. You need JavaScript enabled to view it ! Of course, if you're just a few miles away, why not come and see us in person? We'd enjoy a chance to meet you face to face!
Why not this Sunday?
Your St Andrew Family
Children's Page
Below are some links to coloring pages for your children. Enjoy!
>
Youth of the Nebraska Synod
We would like to thank the ELCA Youth from the Nebraska Synod for visiting us on Sunday, June 23rd. They were here participating in a mission trip in the Dallas/Fort Worth area. They were totalling inspiring to all of us. You can watch a short video of their visit here.
Member Directory Online
Did you know that our Member Directory is online? To keep each member's information strictly confidential we have made the link to our directory only available to registered members of our web site. In addition a password will be needed to view the member and photo sections of our Olan Mills member directory.
To register as a member of our web site, simply click here and submit the required information. After receiving your registration request an email will be sent to you requesting you to furnish some additional information so we can confirm that you are who you say you are (birthday, anniversary, phone, etc). After confirming your idenity you will be set up as a registered member and emailed the password to access the online directory.
For those of you who are already registered on our web site, you may email Steve ( This e-mail address is being protected from spambots. You need JavaScript enabled to view it ) for the password to our directory. Please put "Member Directory" in the subject of your email.
50th Anniversay Christmas Ornament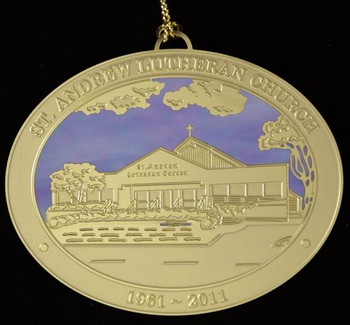 Be sure to purchase your commerative Christmas ornament celebrating our 50th Anniversary!
Only $10.00
while supplies last.